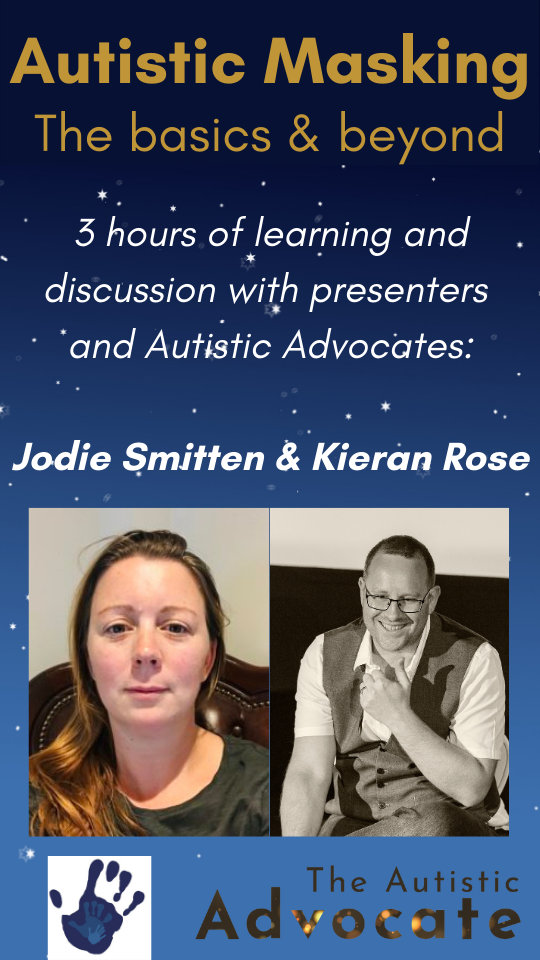 Kieran and Jodie invite you to explore all things 'autistic masking', with a focus on children and education. with them in the recording of their February 2021 session.
This is the recording of their sold-out February 2021; a semi-structured talk which invited open discussion and questions throughout.
What the session covers:
What is masking
Myth busting
Masking; when does it start
Why & how masking behaviour is sustained
Implications of masking long term
The dangers of unmasking
Supporting safe unmasking
Developing mutually respectful relationships
Saying 'NO'
In order to keep the training accessible it is the same cost, £15, as the live session. The only difference being that as this is a recording you do not have the opportunity to ask questions.
Your Hosts
Kieran Rose was diagnosed as Autistic in 2003 and is a parent of Autistic children. An academically and mainstream published Author, Kieran is an International Public Speaker, whose essays at www.theautisticadvocate.com have been read by over a million people. He is currently co-producing research into Autistic Masking, Monotropy and Autistic Identity
Kieran delivers his own specialist Autism training; and provides private consultancy for charities and organisations across the UK and the world. He is also founder of a network for Autistic advocates, Executive Board Member of the Therapist Neurodiversity Collective, an international education organisation for Occupational Therapists and Speech and Language Therapists; and Neurodivergence Educator for the US based Occupational Therapy charity the Star Institute for Sensory Processing.
Jodie Smitten is an independent children's well-being practitioner specialising in autism and a parent to autistic children.
Jodie has many years of experience in working alongside autistic children and their families, advocating for identification, educational adjustments, changes in parental approaches and positive self-identity. Jodie has a post graduate certificate in autism and is currently doing an MA in autism.
https://www.facebook.com/BehaviourSupportWiltshire
More training from The Autistic Advocate