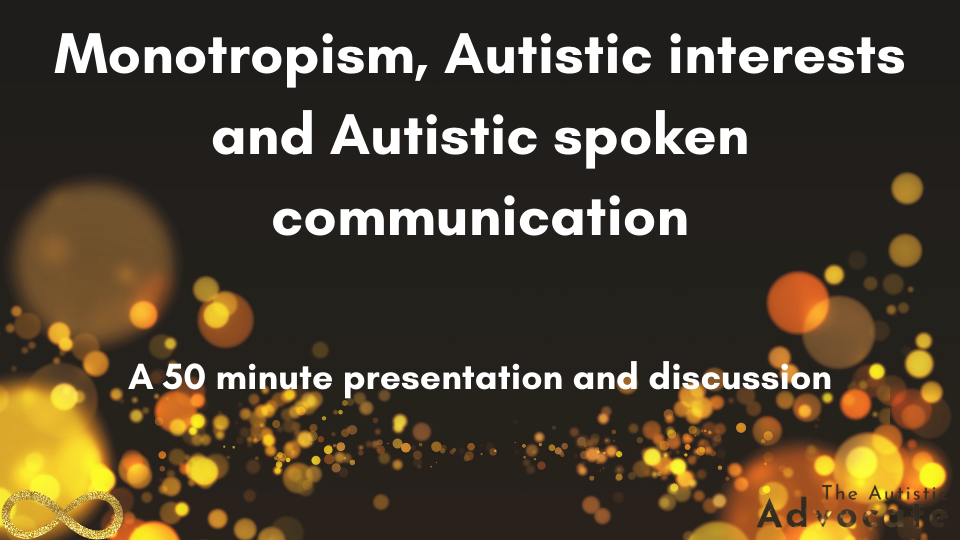 Monotropism; Interests and Language
Recorded live in January 2021, this 50 minute talk covers the theory of Monotropism to describe the Autistic brain and it's heavy focus on attention, how that connects with what are described as 'special interests'; and how that can impact on the way Autistic people use communication.
More Information
This presentation and the accompanying Q&A session was recorded live in January 2021 and delivered to a group of Speech and Language professionals.
This presentation is ideal for Professionals, Autistic people and those who support Autistic people, particularly those who are new to the idea of Monotropism.
The theory of Monotropism (also known as the Unifying theory of Autism) is used to describe the difference between an interest driven Autistic brain with a deep singular focus on things it's attention is drawn to (Monotropic), as opposed to a non-Autistic brain which can be multiply focused with more shallow split attention (Polytropic).
In this presentation Kieran;
Introduces Monotropism,
Explains how that connects with ideas around 'Special Interests',
Highlights the connection between Monotropic thought and Autistic spoken communication styles,
He also discusses the importance of why those communication styles should be validated.
Accompanying this presentation are a number of valuable resources;
the originally published paper on Monotropism by Dinah Murray and Wenn Lawson;
A wider explanation by Dr Damian Milton;
A research paper on Monotropism and Autistic learning styles in school children, by Dr Rebecca Wood;
An accompanying article by Fergus Murray from 'The Psychologist'.