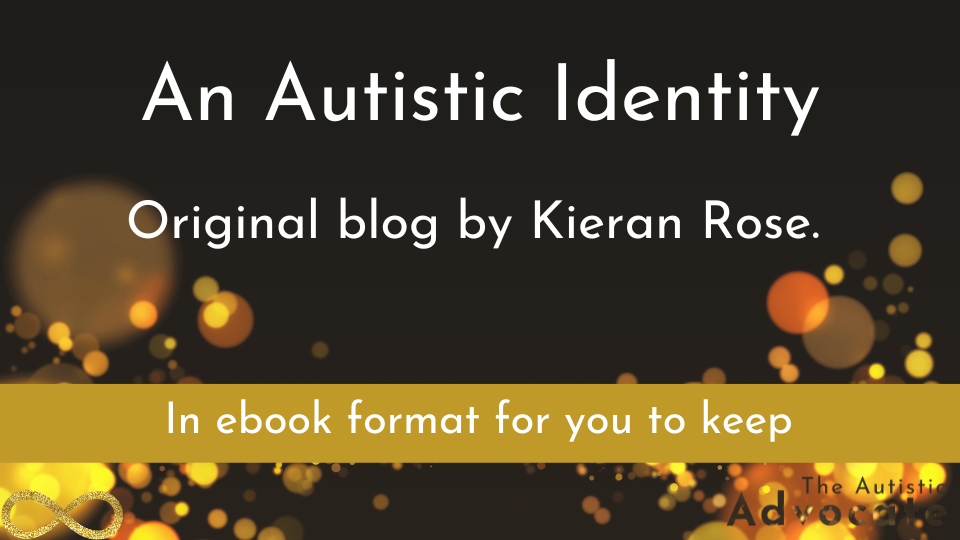 Understanding Autistic Identity
Originally published as blog on The Autistic Advocate website in March 2019 this article has been read by thousands of people.
So much of what Kieran talks about: Language, Masking and Burnout, the history of Autism, the diagnosis, the near constant invalidation, this need for people to have a paradigm shift at all about Autism; all leads, back to one thing:

Identity.
Specifically Autistic Identity.

Why an ebook format?
Kieran's blog is available to read for free on his website; https://theautisticadvocate.com/2019/03/an-autistic-identity/
However, it's a long blog; it runs to 13,000 words!
Reading 13,000 words on a screen is no problem for some people, but others would much prefer to have something to print out.
This might be so they can take their time and come back to it, make notes, share it with others or just chuck it in their bag and carry it around with them!
The ebook format provides you with a pdf, with the blog spread out over 46 A4 pages, which you can save to read on any of your devices and also print out.
Kieran hasn't edited the ebook version of the blog at all; it is as it originally was when it was first published in 2018.
However, included in the ebook version is a list of all of links Kieran references.
For just $5 we hope this ebook version proves a really useful addition to your knowledge on Autistic Identity.
Note on pricing:
$5 is approximately £4GBP and 4.90 Euro.
If you are outside of the UK you may be charged tax at your local, relevant rate. We do not receive any of your tax; Teachable pay it directly to the relevant tax authority our behalf.
What's Inside;
As soon as you purchase the ebook you will have access to the file to download, save and print.
The ebook is 46 A4 pages long.
We have also provided you with all of the links Kieran mentions so that you can easily click through to anything, even when reading a paper version.
Disclaimer: Originally published as a blog in March 2019 and the ebook a direct copy of the text, so please be aware there may be some errors.
Original post is free to view and can be read here; https://theautisticadvocate.com/2019/03/an-autistic-identity/
Available in days

days after you enroll

An Autistic Identity
Available in days

days after you enroll

The Inside of Autism
Available in days

days after you enroll

Become an Affiliate
Other training from The Autistic Advocate